Many businesses that use video online are doing more damage than good for their brand and their message. The ease with which videos can be made has caused a deluge of poorly produced videos, which instead of making sales are actually driving business away.
In his new book, "Shoot Me Now –Making videos to boost business", Geoff Anderson explains how to avoid the common mistakes that can damage a business's credibility.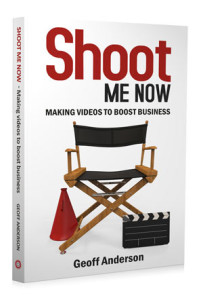 Geoff Anderson, owner of Sonic Sight, has been producing business and corporate videos for over 20 years. "In recent years the uptake of video online has skyrocketed. Last year video accounted for 34% of internet traffic," Mr Anderson said. "by 2017 it will be 69%."
Video has grown to be the most powerful way of promoting business and services online, proving to be 6 times more effective than print and direct mail. Geoff's timely and highly anticipated book "Shoot Me Now" covers aspects such as using video to win business before the meeting, engaging the audience, using animation and how to present yourself and your business in the best light.
Branded video content reaches nearly half (46%) of all internet users in developed nations. More than half of these people (54%) go on to click though to the brand's website. 81% of senior marketing executives now use online video content in their marketing programs, up from 70% in 2011. Geoff Anderson's extensive knowledge comes from over two decades experience of working directly with major corporations, government departments and individual business owners. "Shoot Me Now – Making Videos To Boost Business", is an easy to read collection of practical ideas and proven strategies on the best way to produce and deploy online video.
Andrew Griffiths, Australia's Number 1 Small Business and Entrepreneurial Author, is convinced this book is long overdue. "There is no doubt that video is going to become increasingly important for businesses to promote what they do," he said. "Geoff Anderson is at the forefront of this movement. His advice is priceless. His book is spot on. Heed what he has to say and you will grow to respect Geoff as much as I do".
The book is now available online via AMAZON or directly from www.geoffanderson.com.au.