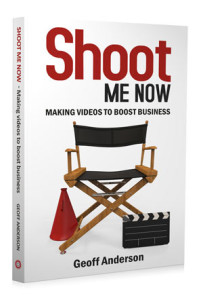 Are you ready to use online video to propel your business? Are you already using it but with limited success? Or worse are you using video that damages your brand.
Online video is here to stay and if you are serious about being in business you need to be watched and be watchable. With online video you only have a few seconds to grab the attention of your audience. And once you have their attention how do you maintain it and convert that interest into business for you?
Shoot me now outlines what's happening in the online world of video and how to make videos that engage your audience. The easy to read structure of this book allows you to jump to the section most relevant for you. In 2012, video accounted for 34% of internet traffic. By 2017 it will be 69%.
This book outlines how to make videos that stand out from the noise and what types of productions are most suited to you and your business. Quality video productions don't just happen by accident.
Read the first chapter
Buy Shoot Me Now
Invaluable to businesses ready to embrace the power of video.
– Scott Levi, ABC Local Presenter
Highly recommended to all corporate media producers, and their potential clients. – Dr Gregory Ferris, Lecturer, Media arts and production, University of Technology, Sydney
The ultimate guide for creating great business videos. – Mike Kovacs, Creative Director, Kachink Communications
A must read for business owners looking to use video for their business. – Roland Hanekroot, author of The Ten Truths for Business Owners' series of business books.
A must-have for anyone considering a video recording for any professional purpose. – Anthony Anderson, Producer 'Somersault' winner of 13 AFI Awards
Or purchase through Amazon