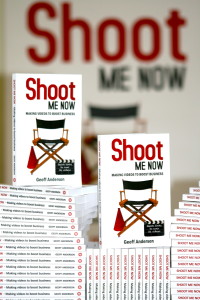 There is no doubt that video is going to become increasingly important for businesses to promote what they do. Geoff Anderson is at the forefront of this movement. His advice is priceless. His book is spot on. Heed what he has to say and you will grow to respect Geoff as much as I do.
Andrew Griffiths,
Australia's #1 Small Business and Entrepreneurial Author
Geoff Anderson has provided an invaluable text for corporate video producers and their clients. Distilling the media down to the two key questions that focus on the audience seems simple enough, but with media technologies constantly in flux, the answers may not always be the same, and this book gets that. Geoff presents a clear, thorough and thoughtful examination of the form, function and your potential markets. Presented with obvious passion and great humour, the book is highly recommended to all corporate media producers, and their potential clients.
Dr Gregory Ferris,
Lecturer, Media arts and production, University of Technology, Sydney
I have worked with numerous video production companies over the past 20 years and I can easily say that Geoff Anderson stands out with his expertise, personality and creative genius. I really enjoy collaborating on projects with him and always know he will deliver, no matter how ridiculous the timeframe or client requests. This book is the ultimate guide for creating great business videos, which I get to see him do automatically, everytime we work together.
Mike Kovacs,
Creative Director, Kachink Communications.
Geoff Anderson has over 20 years' experience in the business of video production. There is little this man does not know, and in this book he has brought together the gems of that experience with his trademark humour and charm.  As entertaining as it informative, this is a must-have for anyone considering a video recording for any professional purpose.
Anthony Anderson,
Producer 'Somersault' winner of 13 AFI Awards
Geoff Anderson knows his business… few video producers manage to combine technical prowess, creative flair, professionalism and a sense of fun as well as Geoff does. If you want to know what to do with video in your business over the coming years, pick up this book and read it.
Roland Hanekroot,
author of The Ten Truths for Business Owners' series of business books.