"Geoff is one of the best presenters I've met.  Within minutes he had our audience of 600 skeptical entrepreneurs in the palm of his hand. Articulate, funny and able to present valuable content in a short amount of time.  Brilliant!"
– Glen Carlson, Director, Key Person of Influence
"5 Stars!"
"Positively enthusiastic"
"Amazing – great presenter"
"Very professionally presented with great content"
Businesses want to know how use video.
Geoff is an expert in the field of Corporate Video production. For 25 years he has worked with international corporates, government agencies as well as small to medium businesses to deliver compelling videos that engage their audience. He is in the right place at the right time to share his expertise on video production.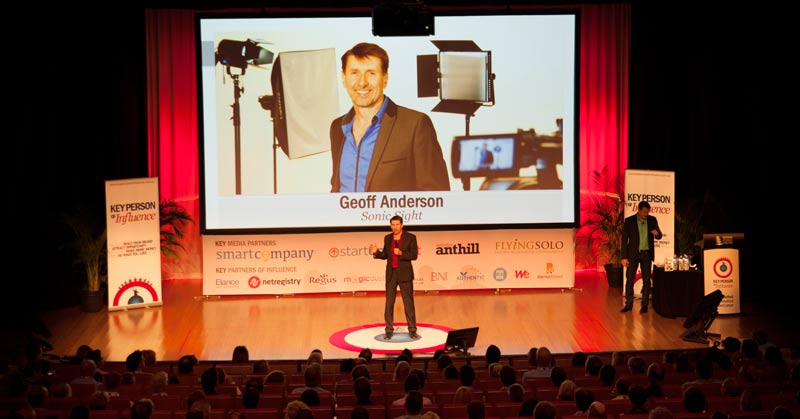 "Geoff loves and knows video – and this comes across when he presents. He is engaging, passionate and imparts valuable information when he speaks. His style is interactive and compelling through the use of stories, humour, examples and practical techniques."
– Maureen Bell, Speak with Presence
As the author of
Shoot Me Now – making videos to boost business
 Geoff is recognised as an authority in his field. Geoff has produced an online training course – 
Video Tips and Secrets
that condenses 25 years of experience to help business owners avoid making brand damaging mistakes.
While it is easier than ever to create video productions, it is also easier than ever to damage your brand and reputation with poorly produced videos. Geoff's presentations are value packed with entertaining, useful information that help his audience save money, save time and save their reputation. Geoff's expertise is delivered in a speaking style that is funny, confident, engaging and generous.
"Very inspiring"
"Exceptional"
"Fabulous – enjoyed his video tips"
"Geoff's knowledge and tips were invaluable"
"It was excellent presentation"
Topics:
Get started with video in your business – the tricks and traps
How to get started with equipment you already own
What topics will be of interest with your target audience
Common mistakes people make with videos
Keeping it simple but effective
Where to host, when to post and what to boast
10 ways to build rapport and new business with video
Create high value content that people will love to watch
Building trust by being generous with your expertise
Attract higher value clients by showcasing your knowledge
Nail the basics of the technology so you are believable
Create content that you can regularly and reliably distribute
Find your own voice on video
10 ways to engage and retain your staff with video
Define a staff culture on video
Have new staff engaged from the start
Keep staff up to date with the direction of the business
Inspire staff with the wins that are happening
Develop a video conversation with your teams
5 steps to outshine your competitors with video
Position your expertise on video
Ensure your productions enhance your brand and don't detract from it
Create dynamic animations for $5
Use unlimited royalty sound tracks for $99 a year and less
Develop a strategy for ongoing video engagement
Waste thousands, look stupid and other mistakes when making videos
Avoid the common mistakes newbies make
Only spend the money you need to
Manage the excitement so you get it right the first time
Learn the number one mistake that will scream "amateur"
Ensure your brand is not damaged by creating dodgy videos.
 "Informative and well­ articulated"
"Professional presentation"
"Honest info – not pushy"
"Practical advice that is relevant to the business"
Why you should use Geoff Anderson to talk about the Power of Video
– Geoff produces videos for corporations such as American Express, Commonwealth Bank, Caltex, Pepsi
– You will hear from an expert who produces corporate videos everyday
– You will get easy to implement tips to use straight away
– Useful concepts that save money and add value to business
– Practical tips, helpful strategies to help business get started in the right direction
– Geoff is a pleasure to work with and easily accessible
– He is a true professional and well prepared
– He does his research and customises his presentation content for all clients
– He presents with passion, authority and a sense of fun
"Geoff Anderson is the person you want when it comes to talking about building your business and your brand with video. He is smart, he gets the challenges that most of us face and he has a lot of practical advice that he can share in any speaking environment. If I wanted someone at my conference to talk about the power of video and how to capture it – Geoff certainly gets my two thumbs up rating".
– Andrew Griffiths, Global Speaker, Australia's no.1 Small Business Author
What you need to do:
Check on Geoff's availability. Contact Geoff on 0419 244 447 or geoff@geoffanderson.com.au
Need stuff?
For Geoff's bio, pics and other useful bits and pieces check out the Media Resources page.